2016 was one of my busiest years yet, starting out with a dream assignment from Marie Claire. I spent a few days with reporter Corinne Redfern at the Veerni Institute for child brides in Rajasthan, India
The Veerni Institute in Rajasthan provides free education, meals, and board for child brides across the state.
Around 75% of Rajasthan lives in rural areas, and the state has a sex ratio of 928 females per 1,000 males—lower than the national average. Moreover, despite the state's average literacy rate of 66.11%, female literacy is much lower at a dismal 52.12%.
Child marriage is a long-standing practice in Rajasthan, and about 30 of the students at Veerni are already married. They may be as young as 9 or 10 when they are married, but normally they aren't sent to live with their husbands until around age 15. The Veerni staff has made a deal with their parents: If you're willing to delay the delivery of your daughter to her in-laws, we'll bring her to the city and give her a free education.
In 10 years, 99 girls have completed their exams and 69 of them have gone on to higher education. Only one former child bride has "been returned" to her husband, and she hit international headlines shortly afterwards for insisting upon her right to a divorce. The others have all won scholarships to study at university, while their husbands wait at home.
The hope is that by the time they graduate, they'll be armed with the tools to escape the marriage altogether.
http://www.marieclaire.co.uk/uncategorised/this-indian-school-protects-child-brides-veerni-16271
Another one of my favorite assignments was for Le Parisien magazine to explore the matrilineal society of Meghalaya, India. I absolutely fell in love with the place, with it's cool climate and beautiful, green misty hills. It was also the safest I've ever felt walking down the street in South Asia as a woman.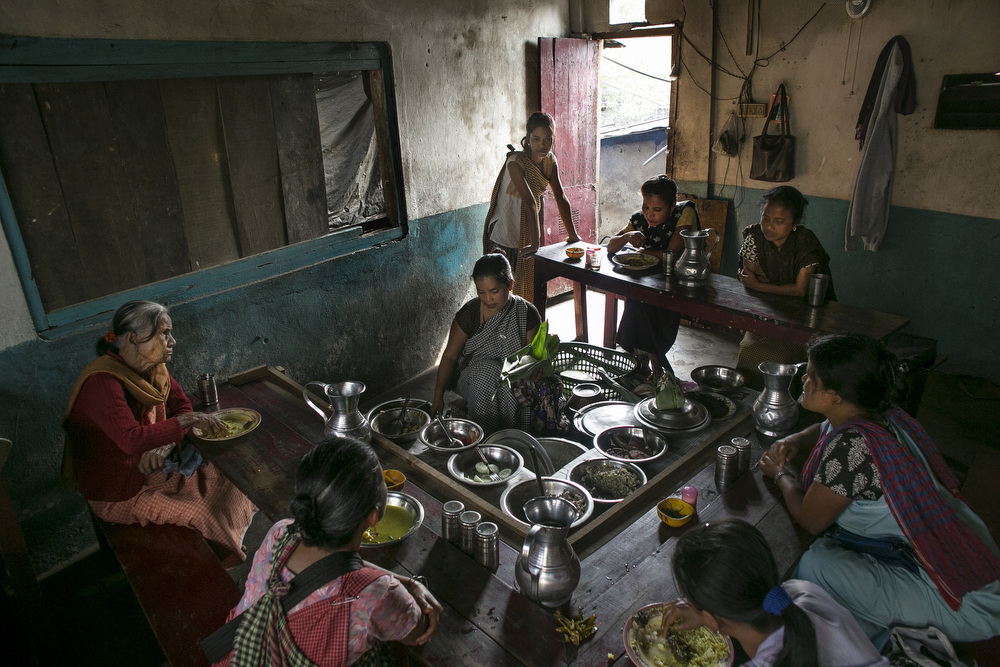 In the small hilly Indian state of Meghalaya, India, a country where women usually cry out for equality and respect, a matrilineal system operates. In the two major tribes of Meghalaya, Khasis and Jaintias, children take the mother's surname and daughters inherit the family property. Women dress how they please, walk freely in the the streets without fear of harassment, and drink alcohol in bars. Most businesses are run by women. Arranged marriage has never been practiced and wives have always divorced freely as they held the family heritage, thus financial independence. In a country with a high rate of female feticide, the matrilineal society of Meghalaya is the one and only place in India where the birth of a baby girl is greeted with happiness.
http://www.leparisien.fr/magazine/grand-angle/au-pays-des-femmes-puissantes-09-03-2016-5611547.php
I was also super excited when Refinery 29 commissioned writer Igor Barbero and I to go cover the surfer girls in Bangladesh, and then sent me to southern India to spend time with India's first female surfer and all around badass Ishita Malaviya
http://www.refinery29.com/2016/07/116024/indian-surfer-girls-shaka-surf-club
http://www.refinery29.com/girls-surf-school-bangladesh#slide
This story on the rise of ISIS and Islamic Fundamentalism was a bit harder to cover, both emotionally and logistically. For years I watched as Bangladesh slipped further and further into disarray, starting with the murders of secular bloggers. At the end of 2015, things got even worse, with the murder of a foreigner and suddenly there were sometimes more than 2 attacks per week on minority communities, most of which were claimed by ISIS. in April, Getty commissioned me to spend a week covering the problem. I was happy that the Washington Post picked it up, but other than that, the work barely got any attention. Bangladesh was in denial about the issue and a lot of media seemed apathetic. Few of us noticed the clear pattern, and covering this story felt a bit like screaming into the dark.. but then the Holey Bakery attack happened and a light switched on..
https://www.washingtonpost.com/news/in-sight/wp/2016/04/26/the-islamic-state-and-islamic-fundamentalism-on-the-rise-in-bangladesh/
In September, Getty sent me to cover Mother Teresa's legacy before her canonization in Kolkata, India. Growing up as a Catholic in the US, Mother Teresa was a household name to all of us, but it was really special for me to learn more about her life and see her work up close. Say what you will about the controversy surrounding her legacy, but to me it's undeniable that thousands of lives are tangibly improved because of her work.
http://abcnews.go.com/International/photos/legacy-mother-teresa-41811474/image-41811777
2016 was a very busy year, with a lot of exciting assignment. In 2017 I plan to do a lot more work throughout Bangladesh. I will continue my story on the Surf Girls, human trafficking, and explore new stories in both India and Bangladesh.